Clothing brands in the USA have consistently held a prominent position in the global fashion landscape, exerting a considerable influence on style trends and consumer preferences worldwide.
Did you know that the United States hosts a diverse and dynamic fashion industry, encompassing a multitude of renowned clothing brands tailored to a wide range of tastes and lifestyles? From iconic names such as Levi's and Ralph Lauren to emerging labels focusing on sustainability and innovation, the American clothing brand landscape mirrors the nation's rich cultural diversity and entrepreneurial spirit.
In this blog, we will introduce the top five clothing brands in the USA. Let's get started! We will explore their history, best products, customer reviews, recent news, and much more.
1. Old Navy
Founder(s): Mickey Drexler
Foundation Year: 1994
Product Range: T-shirts, Tanks, Polos, Sweatshirts, Hoodies, Jeans, Shorts, Pants, Leggings, Skirts, Jackets, Vests, and Coats
Price Range: $10-$50
Old Navy, a subsidiary of Gap Inc., was established in 1994 as a budget-friendly alternative to Gap. Named after a Parisian bar for its straightforward appeal, the first Old Navy store opened in California in 1994, quickly expanding to over 500 stores with $2 billion in annual sales by 1998. Old Navy offers affordable and diverse clothing brands in the USA and accessories, competing with brands like H&M and Zara while maintaining popularity in the US as one of the most reasonably priced clothing brands.
Now, let's look at some recommended products:-
Graphic T-shirts: Known for their humor and vibrant designs and are available in various sizes.
Jeans: Affordable and comfortable, offering a wide range of fits and styles.
Sweaters: Stylish, comfortable, and soft sweaters for all.
Activewear: Comfortable and reasonably priced for various activities.
Dresses: A wide range of affordable dress options for women.
Old Navy stands out as a top choice for budget-conscious fashion enthusiasts due to several compelling reasons. Firstly, its well-deserved reputation for affordability, with most items priced under $20, is unmatched. Moreover, Old Navy frequently offers sales and promotions, further reducing costs.
In addition to unbeatable prices, Old Navy leads in keeping up with fashion trends, catering to diverse ages and body types, including an extensive size range for men, women, and children. Notably, their commitment to quality is unwavering, ensuring durability in their clothing materials and construction.
With over 1,000 stores across the United States, Old Navy offers incredible convenience. To maximize savings, shoppers can watch for sales, explore the clearance section, utilize available coupons, and benefit from bulk discounts for essentials.
In summary, Old Navy provides a comprehensive solution for budget-friendly fashion, combining affordability, trendiness, size diversity, quality, and accessibility, making it the ultimate destination for savvy shoppers.
2. Nike
Founder(s): Phil Knight, Bili Bowerman
Foundation Year: 1964
Product Range: Tops and T-shirts, Hoodies and Sweatshirts, Trousers and Tights, Shorts, Innerwear, Skirts, Dresses, Tracksuits, Outerwear
Price Range: $20-$120
Founded as Blue Ribbon Sports (BRS) on January 25, 1964, in Eugene, Oregon, by Phil Knight and Bill Bowerman, Nike began as a distributor for Onitsuka Tiger. In 1971, it introduced its own running shoe line under the name Nike, inspired by the Greek goddess of victory. The iconic swoosh logo, designed by Carolyn Davidson for just $35, marked a turning point. Nike gained fame for its innovative running shoes, introduced Air technology in 1979, and, in the 1980s, expanded into sports apparel and signed endorsement deals with top athletes.
Here are some recommended Nike products:
Nike Dri-FIT Tanks and Sleeveless Tops: Featuring moisture-wicking Dri-FIT material for staying cool and dry.
Nike Dri-FIT ADV Long-sleeve Shirts: Employing advanced moisture-wicking technology for enduring comfort
Nike Pro Dri-FIT Shorts: Ideal for HIIT, these high-waist bike shorts remain in place and wick away sweat.
Nike Pro Dri-FIT Leggings and Tights: Featuring high-stretch, breathable fabric with calf mesh for heat control during intense workouts
Nike Dri-FIT T-Shirts: Equipped with sweat-wicking technology, they are available in various styles and colors to suit your workout needs.
While Nike is often perceived as one of the high-end clothing brands in the USA, it provides a range of budget-friendly fashion options. Firstly, take advantage of sales, both online and in stores, especially during end-of-season sales and special promotions. Clearance items can also be a goldmine for savings.
Nike's outlet stores offer discounted clothing and shoes, and generic Nike products maintain quality but come at a lower cost, often available at outlet stores and online retailers. For more substantial savings, explore the second-hand market by checking thrift stores, consignment shops, and online marketplaces for used Nike clothing and shoes.
Here are some budget-friendly Nike fashion examples: the iconic Nike Air Force 1 sneakers, usually priced under $100. Nike Dri-FIT T-shirts, designed for comfort, can be found for under $20. Versatile Nike leggings often cost less than $50, and Nike hoodies and sweatshirts are typically priced under $50. These options demonstrate the array of choices available for those looking to enjoy Nike's style and quality without overextending their budget.
3. Levi Strauss & Co.
Founder(s): Levi Strauss
Foundation Year: 1853
Product Range: Jeans, T-shirts, Tanks, Polo shirts, Button-downs, Sweaters, Chinos, Shorts, Skirts, Denim jackets, Trucker jackets, and Puffer vests
Price Range: $20-$200
Levi Strauss & Co., founded in 1853 by German-Jewish immigrant Levi Strauss, is renowned for its iconic Levi's denim jeans. Originally selling work pants during the California Gold Rush, Levi partnered with Jacob Davis in 1872 to patent durable work pants with copper rivets, known as blue jeans. In 1934, Lady Levi's and the iconic red tab were introduced. During the 1950s and 1960s, Levi's jeans symbolized youth rebellion and were worn by stars like James Dean and Marlon Brando. Today, Levi Strauss & Co. is a global clothing giant, with brands like Dockers and Denizen, and Levi's is available in over 110 countries, making it one of the USA's most popular clothing brands.
Recommended products:
Levi's 501 Original Fit Jeans: The timeless, enduring original blue jeans with a straight fit
Levi's 505 Regular Straight Jeans: Classic, versatile jeans for everyday wear
Levi's 721 High Rise Skinny Jeans: Sleek and modern high-rise skinny jeans
Levi's Trucker Jacket: A classic denim jacket designed for layering, featuring a button-down front and two chest pockets.
Graphic T-Shirts: Stylish, high-quality graphic T-shirts for men and women
Levi's stands out as a budget-friendly fashion destination for several compelling reasons. They offer an extensive range of affordable options, including jeans and clothing items, at various price points, ensuring stylish pieces that match your budget. Levi's jeans are renowned for their durability and quality, making them a long-lasting investment, even with regular wear.
Additionally, Levi's timeless style ensures your jeans stay fashionable for years, suitable for various occasions. To enhance budget-conscious shopping at Levi's, monitor their frequent sales and promotions, offering discounted, high-quality items. Their website's clearance section is a goldmine for deal-seekers, featuring discounted jeans and clothing from past seasons.
For US customers, Levi's outlet stores provide products at reduced rates. Bulk purchasing can lead to long-term savings by providing a consistent supply of enduring and stylish jeans. Levi's not only offers budget-friendly fashion but also various avenues for quality and style optimization while being mindful of your budget.
4. Ralph Lauren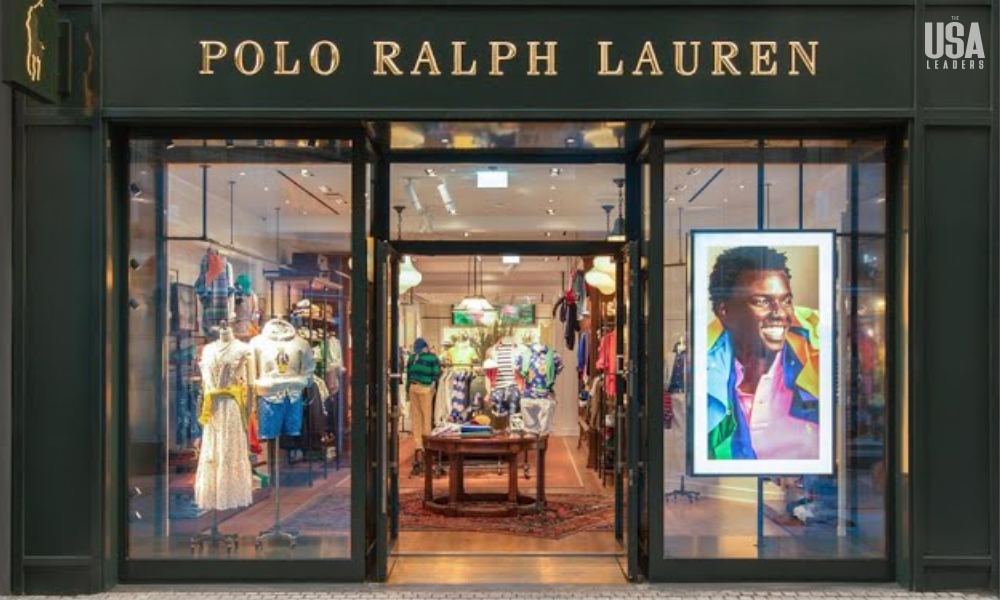 Founder(s): Ralph Lauren
Foundation Year: 1967
Product Range: T-shirts, Polo shirts, Button-down shirts, Blouses, Sweaters, and Jackets, Jeans, Chinos, Shorts, Skirts, and Dresses, Coats, Jackets, and Vests
Price Range: $50-$1500
Ralph Lauren, the American fashion icon, founded his company in 1967 and is well-known among luxurious clothing brands in the USA and home items. The brand began with colorful ties under the Polo label and later expanded to include stylish men's and women's collections. In 1972, the iconic mesh polo shirt was introduced. Over time, Ralph Lauren extended the brand to fragrances, home goods, and children's clothing, with a global network of stores. Today, Ralph Lauren remains a premier fashion brand, celebrated for its enduring quality and style.
Their popular clothing items include:
Sweaters and Sweater Vests: Offering a diverse range of sweaters, from cable knits to Fair Isle patterns, Ralph Lauren caters to various styles.
Swimwear: Ralph Lauren's swimwear is favored for its timeless patterns like checks and bold stripes.
Overcoats: The Polo overcoat, an iconic piece, exemplifies the brand's commitment to quality.
Vintage Polo Items: Known for their durability and value, including corduroys, sweaters, ties, suits, and seersucker garments.
Purple Label Suits & Jackets: With a distinct 1930s-inspired style, wide lapels, and a comfortable, sweater-like fit, this product offers a unique fashion statement.
While Ralph Lauren is renowned for luxury fashion, it provides budget-friendly shopping opportunities through several strategies. Firstly, they frequently hold sales in stores and online, offering discounts of up to 70% on past and current-season items. Outlet stores worldwide also offer significant discounts on various merchandise.
To maximize budget-friendly shopping at Ralph Lauren, consider focusing on their basics collection, featuring durable and timeless pieces like t-shirts, polo shirts, button-downs, and jeans. For those willing to spend a bit more, investing in key pieces like blazers, cashmere sweaters, or leather bags is worthwhile for their versatility and long-term value.
Ralph Lauren's commitment to sustainability means you can find affordable items made from eco-friendly materials. Additionally, exploring capsule collections and the Polo Ralph Lauren line offers mix-and-match options and a wide range of budget-friendly clothing, accessories, and home goods. These tips ensure you can discover budget-friendly fashion while maintaining style and quality.
5. Coach
Founder(s): Miles Cahn
Foundation Year: 1941
Product Range: T-shirts, Polo shirts, Button-down shirts, Blouses, Sweaters, Hoodies, Jeans, Chinos, Dress pants, Skirts, Shorts, Jackets, Coats, and Vests
Price Range: $75-$1500
Coach, founded in 1941, initially specialized in leather wallets and billfolds. With the addition of Miles and Lillian Cahn in 1946, the brand expanded, drawing inspiration from baseball gloves to create handbags. In the 1960s, Coach diversified into totes, shoulder bags, and clutches. The iconic signature pattern emerged in the 1970s. In the 1980s, Coach pursued international expansion and catered to a younger demographic. The 1990s introduced new designs like the Swagger and Hobo bags, ultimately propelling Coach to luxury status in the 2000s.
Here are some popular Coach products:
Signature Canvas Sweatshirt: A classic piece featuring Coach's iconic Horse and Carriage logo.
Field Jacket: A durable and functional choice for everyday or outdoor wear.
Shearling Bomber Jacket: A stylish and comfortable option for cold weather
Quilted Puffer Jacket: A warm and fashionable choice for winter
Trench Coat: Versatile and weather-resistant, suitable for various occasions.
Coach is another luxury clothing brands in the USA that offers budget-friendly fashion options, attracting savvy shoppers. This affordability is attributed to several key factors. Firstly, Coach frequently hosts in-store and online sales and promotions, allowing customers to purchase discounted handbags, wallets, shoes, and accessories.
In addition, global outlet stores offer reduced-priced Coach merchandise, often from past seasons or with minor imperfections. Furthermore, pre-owned Coach items in excellent condition can be found at consignment shops and online marketplaces, providing significant savings.
To optimize your budget-friendly shopping at Coach, remember to monitor Coach's website and social media for ongoing deals, explore outlet stores for further discounts, and consider pre-owned Coach merchandise for additional cost savings. You can also mix high-end Coach investment pieces like handbags with more affordable Coach items such as scarves, jewelry, and accessories to create stylish and budget-friendly outfits.
In the world of fashion, clothing brands in the USA hold a special place. From iconic names like Ralph Lauren and Coach to renowned sportswear giants like Nike and Levi's, these brands have made a lasting mark on the industry. They've not only shaped American fashion but have also earned global recognition. With their commitment to quality, innovation, and a diverse range of styles, these clothing brands showcase the spirit of American creativity and craftsmanship.
ALSO READ: Top 10 Richest Countries in the World You Should Know About