Are you in the United States and trying to decide which hospital to choose for your healthcare needs? If that's the case, your search is over. When it comes to healthcare, it's essential to find the best hospitals in the USA. These institutions are known for their excellence, providing high-quality medical care and services to people across the country. In this blog, our goal is to help you make an informed decision by presenting a list of the top nine best hospitals in the USA that offer outstanding treatment.
1. Mayo Clinic
Founder: William Worrall Mayo
Foundation Year: 1999
Headquarters: Rochester USA
Bed Capacity: 2,059 Beds
The Mayo Clinic consistently ranks as one of the top hospitals in the U.S. News & World Report hospital rankings. It is also renowned as one of the best hospitals in the USA, with over 70 branches across the country. The clinic is known for providing high-quality healthcare and excels in various medical specialties, including cancer treatment and cardiology, including heart surgery.
One notable achievement of the Mayo Clinic occurred in 2001 during a major health crisis caused by anthrax-laden letters in the U.S. mail, which resulted in five deaths and 22 illnesses. In collaboration with Roche Diagnostics, the Mayo Clinic developed a rapid DNA test capable of diagnosing anthrax exposure within an hour.
Currently, the Mayo Clinic is actively testing Microsoft's generative AI tools with the aim of simplifying complex healthcare processes for healthcare workers.
2. Cleveland Clinic
Founder: George Washington Crile, Frank Emory Bunts, William Edgar Lower, and John Phillips
Foundation Year: 1921
Headquarters: Cleveland, Ohio, USA
Bed Capacity: 1,294 Beds
The Cleveland Clinic consistently ranks second on the list of the best hospitals in the USA. It also enjoys a distinguished reputation for excellence in cardiology, oncology, and orthopedics. Additionally, the hospital is well-known for its groundbreaking research and high-quality patient care. With a global presence, operating 23 branches worldwide, it has firmly established itself as a leader in the field.
Some of its notable achievements include the following: In 2019, it witnessed the first North American birth resulting from a deceased donor uterine transplant. Subsequently, in 2021, researchers at the clinic developed a vaccine to prevent the deadly triple-negative breast cancer.
Most recently, the Cleveland Clinic made history by performing the world's first-in-human gene therapy for Hypertrophic Cardiomyopathy.
3. Johns Hopkins Hospital
Founder: William Henry Welch, William Stewart Halsted, William Osler, and Howard Kelly
Foundation Year: 1889
Headquarters: Baltimore, Maryland, USA
Bed Capacity:1,091 Beds
Johns Hopkins Hospital, located in Baltimore, Maryland, is one of the country's most highly regarded healthcare institutions. It serves as a teaching facility for the Johns Hopkins School of Medicine and is widely known for its innovative medical research and approaches, particularly in the fields of cancer, cardiology, and neurology. It consistently ranks among the world's top medical facilities.
The hospital operates as a single institution with multiple facilities on its main campus and in the surrounding area. In a significant development in 2016, the hospital played a crucial role in a groundbreaking study that confirmed a likely biological link between the Zika virus and microcephaly, a birth defect characterized by infants having undersized heads and impaired brain development.
Furthermore, in a recent announcement, U.S. News & World Report's 2023–24 Best Hospitals list recognized Johns Hopkins Hospital as an Honor Roll hospital, reaffirming its prestigious position in the healthcare field.
4. Massachusetts General Hospital
Founder: Fritz B. Talbot
Foundation Year: 1811
Headquarters: Boston, Massachusetts, USA
Bed Capacity: 1,059 Beds
Massachusetts General Hospital (MGH), one of the largest hospitals in the United States, is a teaching institution affiliated with Harvard Medical School. MGH consistently ranks among the best hospitals in the USA and is widely acclaimed for its excellence in various medical specialties, establishing itself as a premier healthcare facility worldwide. It was the first hospital in the nation to form an affiliation with a medical school, setting a precedent in the field.
MGH is particularly renowned for its expertise in cardiovascular care, heart-related treatments, and vascular surgery. In 2013, it achieved a significant milestone by successfully performing the first face transplant in the United States. In 2017, MGH made history once again by conducting the first successful uterus transplant in the United States.
Notably, the Massachusetts General Cancer Center recently received a substantial donation, marking a historic moment in its ongoing efforts to advance cancer research.
5, Duke University Hospital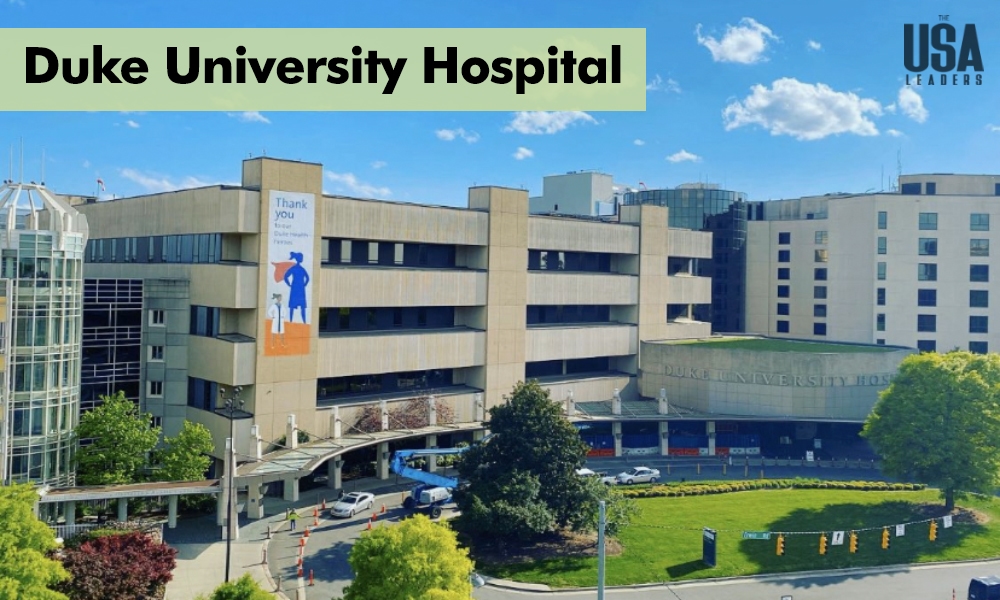 Founder: James B Duke
Foundation Year: 1925
Headquarters: Durham, North Carolina, USA
Bed Capacity: 1,048 Beds
Duke University Hospital serves as the primary teaching hospital within the Duke University Health System, a network of healthcare providers covering Durham County, Wake County, North Carolina, and the surrounding regions. The hospital is renowned for its expertise in cancer treatment, cardiology, heart surgery, diabetes and endocrine disorders, ear, nose, and throat care, gastroenterology and GI surgery, gynecology, neurology and neurosurgery, ophthalmology, orthopedics, pulmonology, rheumatology, urology, and psychiatry. The Duke University Health System extends its services through more than 400 clinics and care locations, providing essential healthcare services to communities across North Carolina.
One of the hospital's recent achievements is the development of an innovative blood test capable of detecting cancer in its early stages. This groundbreaking technology has the potential to revolutionize cancer care by enabling earlier diagnosis and treatment, ultimately leading to improved patient outcomes.
It's worth noting that Duke University Hospital has earned national recognition, consistently ranking among the top tier in ten adult specialties and ten children's specialties.
6. Mount Sinai Hospital
Founder: Sampson Simson
Foundation Year: 1852
Headquarters: New York City, USA
Bed Capacity: 1,134 Beds
Mount Sinai Hospital, one of the country's largest and oldest teaching hospitals, is well-known for its international patient care, educational contributions, and state-of-the-art medical facilities. It holds the 6th rank among the best hospitals in the USA, with particular expertise in orthopedics, cardiology, neurology, and cancer treatment. Moreover, Mount Sinai Hospital operates eight hospitals across the USA.
Recently, it received renewed national recognition for nursing excellence through the American Nurses Credentialing Center's Magnet Recognition Program.
Furthermore, this month, Dr. Valentin Fuster, President of Mount Sinai Heart and Physician-in-Chief of Mount Sinai Hospital, will be awarded the Gold Medal for Scientific Merit by the Barcelona City Council. This recognition is a result of his groundbreaking research in cardiovascular disease.
7. Northwestern Memorial Hospital
Founder: William A. Passavant
Foundation Year: 1972
Headquarters: Chicago, Illinois, USA
Bed Capacity: 943 Beds
Northwestern Memorial Hospital (NMH) is a leading academic medical center in the United States, known for its excellence in various medical specialties such as cancer treatment, cardiology, neurology, and orthopedics. It also serves as a teaching hospital for the Feinberg School of Medicine at Northwestern University. NMH operates across 10 locations in the USA.
For several years in a row, U.S. News & World Report has consistently ranked NMH as one of the nation's top hospitals. Moreover, NMH plays a crucial role in education and research. In 2023, it received recognition as the "Best Place for Disability Inclusion" by the same organization.
Additionally, Northwestern Hospitals were also acknowledged in the U.S. News & World Report rankings as some of the best in the nation.
8. Houston Methodist Hospital
Founder: Marc L Boom
Foundation Year: 1919
Headquarters: Texas, USA
Bed Capacity: 948 Beds
Houston Methodist Hospital is committed to providing high-quality care to its patients. The hospital offers a wide range of services and amenities, including a state-of-the-art emergency room, a comprehensive cancer center, and a pediatric hospital. It comprises seven community hospitals located throughout the United States, with a prominent academic medical center situated in the Texas Medical Center, along with an additional six community hospitals serving the Greater Houston area.
One noteworthy medical achievement occurred in 2006 when a patient underwent chemotherapy while receiving treatment with a ventricular assist device at one of their hospitals.
In August 2023, Houston Methodist Hospital gained recognition as the top-ranked hospital in Texas.
9. UCLA Medical Center
Founder: Johnese Spisso
Foundation Year: 1955
Headquarters: California, LA USA
Bed Capacity: 520 Beds
The UCLA Medical Center, known for its expertise in various medical fields, serves as the primary teaching hospital for the David Geffen School of Medicine. It is also recognized as California's and Los Angeles' leading medical facility, particularly excelling in Cancer, Cardiology, Neurosurgery, Orthopedics, and Pediatrics. Moreover, UCLA Medical Center operates at five different locations across the USA.
Recent accomplishments include recognition by Newsweek on its 2023 list of the World's Best Hospitals. Additionally, both the UCLA Medical Center of Santa Monica and the University of California Ronald Reagan UCLA Medical Center received an "A" rating in spring 2023.
In 2023, UCLA Health inaugurated a theranostics center dedicated to personalized cancer care.
In conclusion, these nine best hospitals in the USA epitomize medical excellence in the country. They have earned their esteemed reputations through dedicated patient care, advanced medical research, and innovation in various specialties. Whether you seek top-tier treatment or pioneering research, these hospitals uphold the highest healthcare standards, making them top choices for medical care in the USA.
ALSO READ: 6 Easy Tips for Weight Loss to kick-start your Fitness Journey