Did you know that the USA has more states than countries in Europe? That's right, the USA has 50 states, while Europe has 44 countries.
But,how did the USA get so many states, and what makes each state unique?
The USA started as 13 colonies that declared their independence from Great Britain in 1776. Over the years, more territories were added to the USA, either by purchase, treaty, or war.
The last state to join the USA was Hawaii in 1959. Each state has its own government, laws, culture, and identity, and some even have their own motto, anthem, and flag.
The main purpose of this blog post is to provide you with a complete list of all the states in the USA, along with some facts and figures about each one.
So are you ready to explore how many states is in USA and what sets them apart? Let's get started!
Let us look at the list of the states of the USA and their capitals below, along with the number of square miles of the states.
| | | |
| --- | --- | --- |
| STATE | CAPITAL | AREA (sq. mi) |
| Alabama | Montgomery | 50,244 |
| Alaska | Juneau | 665,384 |
| Arizona | Phoenix | 113,990 |
| Arkansas | Little Rock | 53,112 |
| California | Sacramento | 163,696 |
| Colorado | Denver | 104,094 |
| Connecticut | Hartford | 5,543 |
| Delaware | Dover | 2,489 |
| Florida | Tallahassee | 65,755 |
| Georgia | Atlanta | 59,276 |
| Hawaii | Honolulu | 10,932 |
| Idaho | Boise | 140,575 |
| Illinois | Springfield | 55,543 |
| Indiana | Indianapolis | 36,184 |
| Iowa | Des Moines | 56,276 |
| Kansas | Topeka | 82,276 |
| Kentucky | Frankfort | 40,408 |
| Louisiana | Baton Rouge | 44,689 |
| Maine | Augusta | 33,292 |
| Maryland | Annapolis | 12,406 |
| Massachusetts | Boston | 10,554 |
| Michigan | Lansing | 58,216 |
| Minnesota | Saint Paul | 84,492 |
| Mississippi | Jackson | 48,430 |
| Missouri | Jefferson City | 69,139 |
| Montana | Helena | 147,040 |
| Nebraska | Lincoln | 77,348 |
| Nevada | Carson City | 110,572 |
| New Hampshire | Concord | 9,349 |
| New Jersey | Trenton | 8,723 |
| New Mexico | Santa Fe | 121,590 |
| New York | Albany | 47,233 |
| North Carolina | Raleigh | 53,821 |
| North Dakota | Bismarck | 70,698 |
| Ohio | Columbus | 41,230 |
| Oklahoma | Oklahoma City | 69,899 |
| Oregon | Salem | 98,379 |
| Pennsylvania | Harrisburg | 49,520 |
| Rhode Island | Providence | 1,545 |
| South Carolina | Columbia | 32,087 |
| South Dakota | Pierre | 77,538 |
| Tennessee | Nashville | 42,244 |
| Texas | Austin | 268,596 |
| Utah | Salt Lake City | 84,489 |
| Vermont | Montpelier | 9,616 |
| Virginia | Richmond | 39,598 |
| Washington | Olympia | 68,138 |
| West Virginia | Charleston | 24,230 |
| Wisconsin | Madison | 56,154 |
| Wyoming | Cheyenne | 97,813 |
Now let's have a look at some of the lesser-known facts about some of the states in the USA
Alaska
Alaska, known as "The Last Frontier," boasts North America's tallest mountain at 20,310 feet, with Denali National Park as a must-visit.
This state, which became the 49th in the United States in 1959, offers a wealth of natural wonders and adventures.
Visitors can witness the Northern Lights, a significant attraction, on Aurora Borealis tours from Fairbanks in winter.
For those seeking relaxation, they can explore the Chena Hot Springs for a cozy experience. If you're a wildlife enthusiast, don't miss the chance to encounter brown bears at Brooks Falls in Katmai National Park in July.
To uncover even more Alaskan adventures, check out "The Best Things to Do in Alaska" and explore Anchorage with "Mushing Through Anchorage."
Arizona
Arizona, known as "The Grand Canyon State," offers easy access to the iconic Grand Canyon and guided rim tours.
This southwestern state, which joined the Union on February 14, 1912, is renowned for its stunning natural landscapes and vibrant cities.
It boasts remarkable features such as slot canyons, rock formations like Coyote Buttes and "The Wave," and the enchanting city of Sedona with its famous hikes.
Additionally, Page, situated near the Utah border, provides an ideal gateway for exploring Lake Powell, embarking on Colorado River hikes, and gazing upon the majestic Horseshoe Bend Overlook.
California
California, known as "The Golden State," is a top US tourist destination, offering a stunning coastline and iconic cities like San Francisco and Hollywood.
In 1850, California became the 31st state of the United States. Explore Tinseltown and Los Angeles with our scavenger hunts.
Then, experience the extreme heat of Death Valley National Park, surprisingly beautiful. California also features colossal trees in Sequoia National Park and Redwood National Forest, offering a fairytale-like experience. Don't miss a scenic drive through both parks.
New York
"The Empire State," known as New York City, is a global hub for fashion, finance, and the arts.
Beyond the city's iconic landmarks, a lesser-known fact is that the Adirondack Park, within New York, is the largest publicly protected area in the contiguous United States, larger than Yellowstone, Yosemite, and the Grand Canyon combined. Established in 1892, this vast park offers a stunning natural escape within the state's bustling metropolis.
New York's rich history and diverse landscapes make it a fascinating state to explore and appreciate.
Florida
Florida, known as "The Sunshine State," is renowned for its pristine white sand beaches, the captivating Everglades National Park, and an abundance of theme parks.
Orlando, a city in Florida, boasts four Disney World Parks, Universal Studios, Sea World, and more.
Interestingly, it's the world's theme park capital, drawing millions of visitors annually. A must-visit destination for those seeking thrilling adventures and family-friendly fun.
Florida, which joined the United States on March 3, 1845, has since become a popular tourist destination with its diverse attractions.
Texas
"The Lonestar State," Texas, is renowned for its larger-than-life charm, epitomized by the big Texas attitude.
This state, which became a part of the USA in 1845, boasts magnificent Gulf Coast beaches, with San Antonio's historic Alamo and Austin's title as 'the live music capital of the world.' A lesser-known fact: Texas is home to the world's largest known bat colony under the Congress Avenue Bridge in Austin, where millions of Mexican free-tailed bats reside.
Hawaii
Hawaii, "The Aloha State," offers a laid-back lifestyle across its five major islands, attracting surfers and seafood enthusiasts.
Even bankers and politicians catch morning waves. The North Shore of Oahu, "The Seven-Mile Miracle," is a world-renowned surfing destination.
Explore Oahu's culture and history, including the Polynesian Culture Center, Pearl Harbor, Lolani Palace, and Diamond Head Crater. For volcano enthusiasts, "The Big Island" beckons with Volcanoes National Park, manta ray swims, and fresh Kona coffee.
Hawaii became the 50th state of the United States on August 21, 1959, when it was formally admitted to the Union.
Nevada
Nevada, known as "The Silver State," is renowned for the dazzling city of Las Vegas, attracting 40 million annual visitors with its vibrant strip, extravagant casinos, and lenient laws.
Beyond the glitter, Nevada offers tranquility for outdoor enthusiasts, boasting magnificent mountains and the breathtaking Lake Tahoe, known for its rare fact of having water so clear that you can see objects 70 feet below the surface.
In the year 1864, Nevada became the 36th state to join the Union, adding its unique charm to the diverse landscape of the United States.
Colorado
Colorado, known as "The Centennial State," offers premier skiing and snowboarding at resorts like Keystone, Vail, Breckenridge, and Copper Mountain.
In summer, it's a haven for hikers and fishermen, boasting 58 fourteeners. Rocky Mountain National Park provides scenic hikes.
Notably, Colorado was the first state to legalize recreational marijuana for adults, adding to its appeal.
Colorado became a U.S. state on August 1, 1876, and since then, it has become a beloved destination for outdoor enthusiasts and those seeking new experiences.
Washington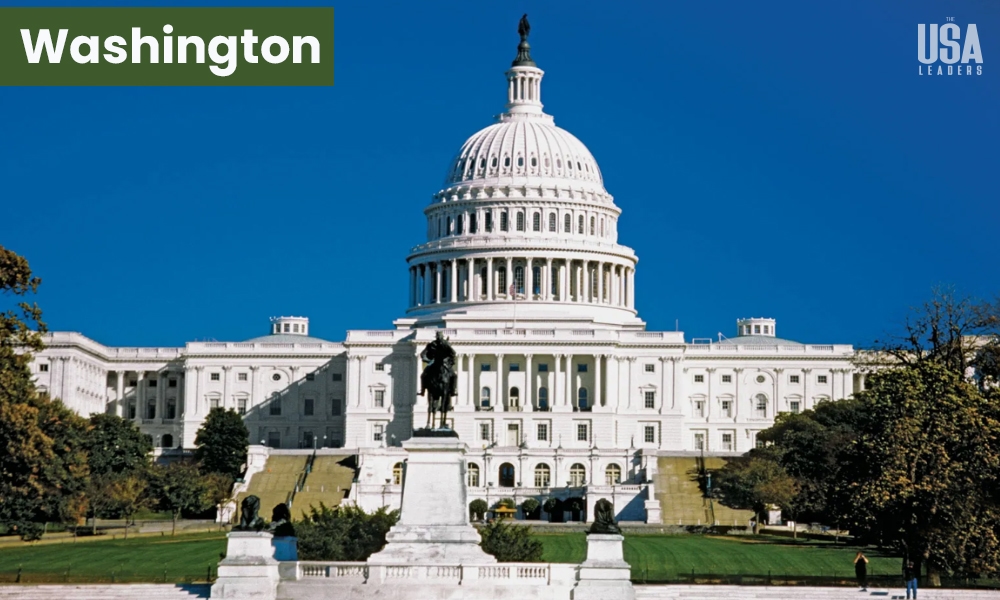 Washington, "The Evergreen State," boasts stunning beauty with the magnificent Olympic National Park, offering world-class hikes.
Furthermore, Seattle, renowned for Grunge music, is also home to the first Starbucks, which made its debut in Pike Place Market in 1971.
However, it's worth noting that Texas, not Washington, is the largest wool producer in the United States, a lesser-known fact about the Lone Star State.
Washington became a state in the United States on November 11, 1889.
You have reached the end of this blog post about "How Many States is in USA". The main purpose and goal of this blog post was to provide you with a complete list of all the states in the USA, along with some facts and figures about each one. Now, we have a question for you: What is your favorite state in the USA, and why? Share your answer in the comments section below, or on social media with the hashtag #statesintheUSA.
ALSO READ: 10 Biggest states in the USA driving the Economy forward